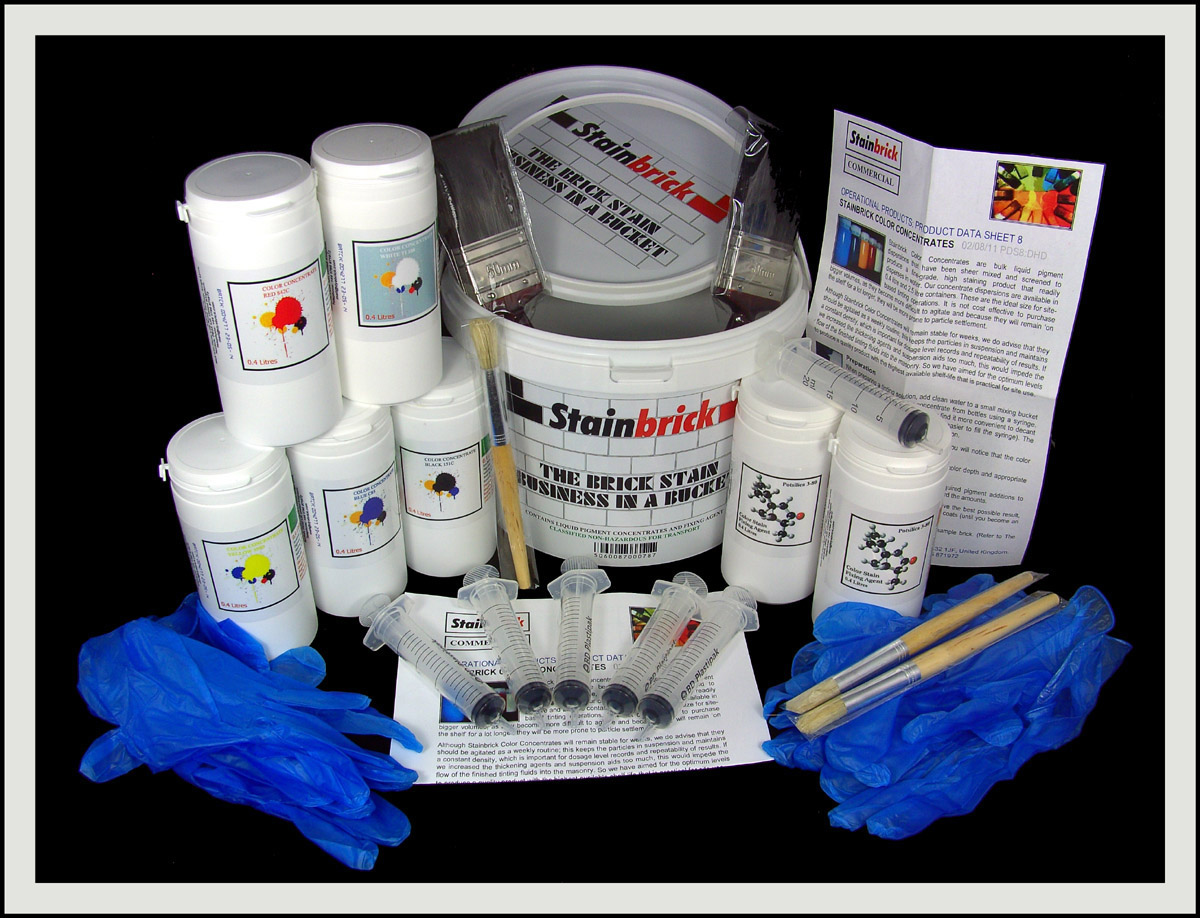 Stainbrick Business in a Bucket:, contains: A complete range of base colour concentrates, fixing agents and essential equipment for the user to practice and apply the art of brick and mortar tinting. This package is the ideal springboard for those seeking to set up a brick tinting service to either complement their existing business activities or as a stand-alone operation. There is enough colour concentrate supplied to potentially treat over 500 square metres (well over 5000 square feet) of brickwork! This is a valuable package to assist you in your new venture into this colourful area of the construction industry. Complete list of items included in this starter pack: The Kit Contains:
1 x 400ml (13.5 fl.oz) Yellow Colour Concentrate Stain
1 x 400ml (13.5 fl.oz) Red Colour Concentrate Stain
1 x 400ml (13.5 fl.oz) Blue Colour Concentrate Stain
1 x 400ml (13.5 fl.oz) Black Colour Concentrate Stain
1 x 400ml (13.5 fl.oz) White Colour Concentrate Stain
2 x 400ml (13.5 fl.oz) Potsilica 3-80 Fixing Agent
6 x 20ml Measuring Syringes
6 x Pairs of Protective Gloves
3 x Mortar Tinting brushes
Stainbrick is designed for commercial operations. All our products are of the finest quality. They are the main raw materials needed to produce high quality brick tinting results.
Stainbrick (or Dyebrick) do not offer guarantees for third-party use of these products. Any guarantees offered to the public must be provided by the user and trials should be carried out to establish your own performance results with a variety of masonry surfaces and substrates.
As we have no control over how you mix the raw materials, you must carry out your own trials on the finished tinting mixes and offer your own guarantees to your customers. We offer no technical backup except the wealth of information that is contained in The Complete Brick Tinting Manual, which is supplied with the Starter Pack. You maintain full independence from us and are not contracted or obliged to purchase any of our products.